A bit of Janneke's own biography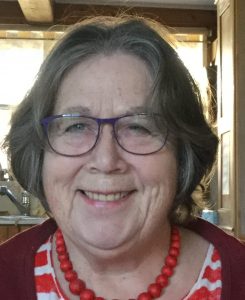 "Being educated in Art school (Rietveld Academy, Amsterdam, illustration and graphic) I learned to observe and I learned to use all kind of graphic techniques. In fact everything about colour I taught myself then. It turned out I was good in observing and drawing, but my soul longed for something different. So it was a good thing I learned to know anthroposophy when I was around 30 years old. Now I could explore the world of colours in a different way! It felt like coming home, in several ways, also with the religious part of me. That's why I decided at 37 to become an art-therapist. I followed this anthroposophical study and have worked with it for more than 20 years. Mainly to offer many people to develop an acquaintance with colours, and with the inner world and nature.
Reading and studying I did a lot but I am not an intellectual person. I think I have kept my childlike ability to wonder. Knowledge of the head is o.k. but as soon as I'm working, especially since I'm retired now from my teaching/therapeutic work, I turn into a playing person. I have discovered that suits me best.
I learned veil painting and I have to say, although technically I'm able to it, and I admire and love to see it, for me personally it's too etheric. My teacher Elizabeth de Bruyne (from the Collot d'Herbois stream, I followed lessons with her after the therapeutic art study) recognized that and she advised me to follow my heart. And I follow my hands, who love "Mother Earth", I have to dig in the "prima materia"; so I use all kinds of matter: sand, clay, stones, metals, pigments…..and let the light shine through it, through the density and the darkness. To me it feels like alchemy (by the way, I study that too).
My last work is getting lighter, less material. I grow more towards veil painting now……
I am fascinated with the art of indigenous cultures, as there's always the connection with the spiritual world. It feels like here in West-Europe we are kind of caught in the flesh.
All these interests make my work versatile. I can't help that. (It does not sell very well when you are like that, but that's o.k. now). I was lucky to have the privilege to explore different styles, ways of approaching. The constant factor in my work is my longing to connect heaven and earth so to speak, for development of self.
Every now and then I make a portrait. It's great to meet other souls. This is different from my free work. It's observing AND feeling. I also lately offered a course about The human appearance. We'll see how much energy (will) I have for that in the coming years.
There's so much to discover yet! I hope to get very old……"
Unfortunately, she passed away on 19 September 2018.