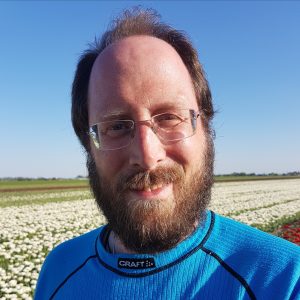 I have been drawing my whole life, and I told whole stories about it to my mother as a child. However at a young age, I also came into contact with computers, which meant that the drawing faded a bit into the background. After graduating from Open Studio in Amsterdam (modern media, video and sound), I became a web designer. Later I also followed the training for sound engineering at the Sound Academy in Hilversum. After that I worked as a sound technician for SuperSens in Amsterdam.
After a trip through North America with its impressive landscapes and because the electricity went out, I discovered drawing again! And all painting lessons that were taught to me at the Waldorf school came in handy again, and because of that I have a good command of the colour palette. As a result, I also made a lot of abstract work in pastel chalk in deep saturated tones. But for the variety I also experimented with ceramics. And these have become objects where light and movement play a role.
However, I do not have much to say about what I make. Because this is still a quest that has not yet been crystallised. I also do not feel like a "real artist" although I always have to be creative, whether it's painting, drawing, ceramics, or digital. I am a real autodidact, although I have looked around what kind of art I like and together with my mother I did many colour exercises as a kind of an apprenticeship.